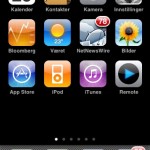 After using my iPhone 3G for some time now, I find my self confused when it comes to organizing all my applications. At first glance the look & and feel of the iPhone was great, but now I tend to think that Apple sure has forgotten something important. When you estimate to sell billions of applications it should be clear that the average user will have a lot of them on their phone, and along comes the issue.
How well is the user interface when the user has 55 apps (as I have at the time this post is written)?. There are some factors to take into account:
Native iPhone apps
Third party apps
Your own apps (could go as third party)
Native apps in regular use
Third party apps in regular use
Third party apps for testing purpose
Different categories like games, travel, office etc
… (and more)
My experience is that if you put 16 applications in one page it's a mess everytime you are looking for one; It's impossible to find it. And if the application is not on the front page… where is it? On page 4…5? By using some of the factores above I have organized my iPhone to some extent, but sure would like to see Apple develop some great and innovative user interface that will work better than it does today. After organizing all my applications I found my self often slide over to the last page. Suddenly I was using the games more regular than first thought. If you know how to move an entire page at a time, please let me know (without using the jailbreaked Categories app). This is actually an extremely time-consuming process.
So, here is how I organized my iPhone:
What I did was to put Native and third party applications that I use often on my front page limiting them to 12.
On my second page I put all the native and third party apps that I use by regular basis.
On my third page is all my applications that supports me when I'm out traveling.
On my forth page is all my games.
On my fifth page I have the applications rarely in use
And the last one is for temporarily testing purpose.
UPDATE:Today I came over this nice post that is digging more into the issues in this post. Also.. 9 pages maximum?? I still have 2 pages until I will have trouble: http://venturebeat.com/2008/12/21/the-need-for-iphone-app-folders-and-search-is-quickly-approaching/